Travel to Hannover Germany
Major Centre of Northern Germany
The state capital Hannover Germanyof the federal state Lower Saxony Germany grew, in the valley alongside the river Leine, since the 13th century into a major centre of northern Germany.
A small village inhabited by ferrymen and fishermen was the beginning of today's world renowned exhibition city. Bordering an important national and European trade route connecting north and south fuelled the overall development from village to Hannover City.
A position strengthened over time with the railway following this path. Later the midland channel, the longest man build waterway, linked east with west. Complemented under technical viewpoint of traffic engineering an interchange of two important motorways Autobahn A2 and A7 connect east with west, north, and south. Both belong to the European road network. A2 corresponds with E30 and A7 with E45.
In this traffic wise privileged position a world city flourished with a population of about 523 thousand. Prepared to welcome fair visitors and tourists year round the city offers a remarkable variety on sights, cultural events, and entertainment.
Red Thread
For newly arrived travellers a red thread starting at the information centre opposite the Main Station leads to 36 notable locations. On a 4.2 km long walk first city exploration can take place. A guidebook gives background information or an organised guide tour can be scheduled.
Hannover Germany has a considerable number of parks. Some outstanding ones are the Royal Gardens of Herrenhausen and the zoo.
Royal Gardens of Herrenhausen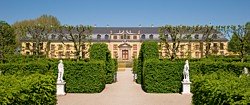 A yearly highlight set into the scene of the Royal Gardens is the firework competition. Five countries present their best in pyrotechnic art and presentation on five evenings spread from May to September.
Amongst others a particular place of interest in the baroque gardens is the Grotto. Niki de Saint Phalle, artist and honourable citizen of Hanover, redesigned the Grotto. Her name pops up again while strolling down George Street and Bahnhof Street. The city's popular shopping streets lead to Niki de Saint Phalle Promenade to find a selection of exquisite shops. The strong connection between city and artist occurs too, In the Sprenger Museum. Here a collection of her early art work, she had gifted, is displayed. Walking down the Leibnizufer three Nana sculptures, by this remarkable artist, fringe the promenade since 1974.
The Zoo
The ordinary Hannover Zoo transformed in a matter of five short years into a themed adventure zoo enjoying world reputation. Themes are: Zambezi, Jungle Palace, Gorilla Mountain, Meyer's Farm, Mullewapp and still in working progress Yukon Bay. Scenes of the animal's geographical origin were model for their new environment. Visitors old and young are taken in to discover and experience.
The Winter Zoo attracts with ice skating, ice revue, Christmas market, and hot mulled wine.
All year Hannover Germany offers attractive events from fun fairs to international exhibitions, on stages from theatre to cabaret indoor or outdoor, music events from classic to rock and pop.
During the festival around the Maschsee and the Hannover Oktoberfest the highest numbers of event visitors are in town. The Maschsee festival starts at the end of July and finishes in the middle of August. At the end of September is the opening of the Hannover Oktoberfest that finishes in the second week of October.




Are you travelling German's state capitals?
Share your state capital travel experiences! Personalize your page within German-Cities.com with up to four photos!