Hotels in Berlin Germany
Places to Stay in The Capital City of Germany
Hotels in Berlin in the most prominent city in Germany. The city is recognized as a cultural hot spot with a variety of festivals and vibrant nightlife. The diverse architecture gives the city a variety of traditional and contemporary sights that despite the contrast, seem to meld together in harmony. Enjoy your stay in these cheap Berlin hotels where there is a suitable choice for everyone.
Best for…. Business
The Hotel Hoppergarten presents a tasteful spot to meet for business travellers. The hotel boasts large lounge areas and meeting rooms fully equipped with computers, printers, internet access and a conference room. Once finished with meetings why not take up some of the nearby activities including bicycling, boating, fishing, horseback riding and golf. At the end of the day you can relax in the hotel bar and enjoy their range of cocktails and beers. If you are a Non-smoker ask to stay on one of their two Non Smoking floors.
Best for…. Families
The Meininger Hotel Berlin Airport is perfect for families who wish to close by to the airport. The spacious rooms have a clean look and have up to 6 beds in their family rooms and you can request a cot. The hotel offers a breakfast room and a guest kitchen. There is a non-Smoking policy all through the hotel. The children will be kept occupied looking at the nearby planes taking off.
Best for… Historic
Near the Hotel Bogota, you will find several restaurants and cafes to choose from as well as striking art galleries and shopping boutiques. The hotel has a charming traditional style with architectural decor that inspires your mood. Completed with old and new world wall art you will feel as if you have stepped back in time. The hotel is set amidst a historical area of the city giving history enthusiasts a chance to enjoy the sights.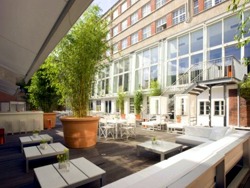 Best for… Grandeur
The Ellington Hotel Berlin presents contemporary with a twist, with light and airy rooms and a glitzy 20's themed lounge bar it exudes elegance whilst remaining welcoming. Complete with the lavish 'Duke' Restaurant and a beautiful courtyard. You can even get a great workout as the hotel has personal trainers and you can relax with a massage or reflexology session afterwards. If you can bear to leave the hotel you will find the famous Kadewe department store for all your shopping needs.
Best for… Students
The Residenz 2000 Apartment Hostel and Hotel is close to the University of Berlin and the Botanical Gardens. The rooms offer minimalism décor with simplistic furniture, giving it a clean modern feel. The hotel offers a kitchenette and garage parking and you can ask for board games and a PlayStation 3 for all your entertainment needs. The train station nearby travels to Potsdamer Platz, Friedrichstraße, and Wannsee lake. The Residenz is ideal for students staying in hotels in Berlin.