The City State Hamburg Germany
Free and Hanseatic City of Hamburg
'Hamburg Germany' is one of the three German city states. The official name is 'Free Hanseatic City of Hamburg'.
Free city is a historical title acquired during the Roman Empire by the end of the 12th century. Meanwhile the membership in a trading guild called Hanseatic League points to the title Hanseatic.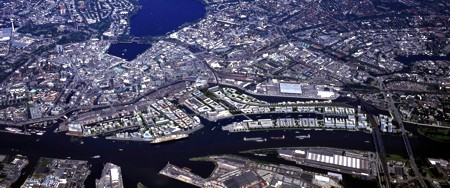 Photo courtesy by www.marketing.hamburg.de
The city port Hamburg is surrounded by water. Its location is where the three rivers Bille River, Alster River, and Elbe River meet. The Outer and the Inner Alster Lake (Aussenalster and Binnenalster ) are artificially created through retaining the Alster River. A network of canals criss-crosses the centre and is responsible for the presence of more bridges than Venice or Amsterdam can claim for. Vessels leaving the seaport to reach the open North Sea sail eighty kilometres the Elbe River upwards.
After Rotterdam, in Netherlands, Hamburg in Germany is the second largest port in Europe. About 1800 ships land at the docks each month both container vessels and cruise liners from all over the world. For Hamburg citizens reason enough to consider themselves as the window to the world for Germany. Outward-looking, dynamic, and multicultural are their attributes.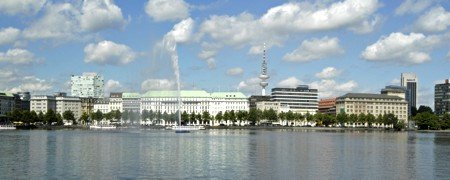 Photo courtesy by www.marketing.hamburg.de
The country's second largest city, with 1.8 million inhabitants has an atmosphere of wealth, nightlife, and business. The nickname Green City of the North is earned by strictly balancing heavy industrialisation with greenery.
All in all a pleasant destination to spend some Hamburg vacations. 60 Museums and 40 theatres take care for a vivid mixture on cultural entertainment. Music venues and scene life capture attention even were often starting point for musical careers.
Extensive parkland and beaches invite to enjoy and relax in the sun. Cruises through one of the biggest harbours, Alster Lakes or through the canal and the warehouse district are activities to take in Hamburg's special flair. Rich in historic and modern architecture, stage for stylish boutiques, or busy market life there is something for every taste and every budget to have a great time in Hamburg Germany.
Are you travelling German's state capitals?
Share your state capital travel experiences! Personalize your page within German-Cities.com with up to four photos!