Black Forest Cuckoo Clocks
German Clocks Enchant Worldwide
The Black Forest Cuckoo Clocks won hearts all around the world which made it one of the most recognized symbols of Germany. These German clocks are manufactured in a small area named Black Forest in the federal state Baden – Wuerttemberg. A state situated in the south west of Germany.
Once, the Black Forest region was predominantly home to farmer and trades people. During the particular long and cold winter months many practised the second trade, watchmaker.
To improve marketability and their overall economic situation the Grand Duchy Baden decided to found the first German watchmaker school in Furtwangen, Black Forest. Robert Gerwig, an engineer, was engaged in 1849 for this task. He set foundation to school and the German clock museum.
The following year Gerwig announced in the Dukedom Baden a competition to redesign the cuckoo clock's outlook. Friedrich Eisenlohr a participating architect came up with the most momentous design. The cuckoo received its own house. From then on it became the Bahnhäusle Clock.
Long before the watchmaker trade was established in the Black Forest the cuckoo mechanism was invented. Implementing the cuckoo was a slight modification since the Black Forest people look back on a long tradition in building figurine clocks in a wide variety. Yet it remains arguable who build the first clock with a cuckoo. Until the redesign competition it was usually a flat hand painted shield with an opening for the bird.
Sure is shortly afterwards the Bahnhäusle Clock took over. Traditional appearance changed into a small house with own flap door for the hourly announcements. Rich ornamental carvings with motifs of the forest added individual character.
With technical developments the driving pendulum became décor and a battery powered quartz clock substituted the mechanical clock work. Digital recordings of natural cuckoos replaced the pipes and their bird sound imitation. Often a light sensor takes care for an undisturbed sleep. For contemporary households the traditional form got a makeover with endless form and colour choices. What remains is the hourly announcement of the cuckoo.
Fans of the German clocks spread word all over the world. The house sized cuckoo clocks in Black Forest towns Triberg and Schonach found rivals in other parts of Germany. For example a clever gift shop owner in Wiesbaden transformed its shop front into a clock to boost business.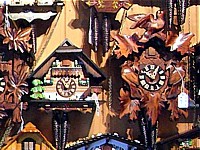 Australia, Gold Coast, Gift Shop
Courtesy Photo by avlxyz
The picture to the right of the page, is taken in Australia on the Gold Coast. It proofs the cockoo clock's borderless popularity.
The gift shop displays traditional and contemporary Black Forest cuckoo clocks. However the main manufacturing and export centre is the Black Forest in Germany.